We have some half-witted bees living outside our apartment. (This is Brad, by the way.) Actually, I don't know if they are bees, wasps, or hornets (Isaac, would you like to explain the difference to the rest of the class?). A group of these winged menaces have decided to build their summer home in our doorway, inches above our heads. They could have built it anywhere, but instead chose the one place that will ensure its demise. A few feet to the left or right would have been fine with me. I am tempted to leave it alone because it is fascinating to watch, but every day it grows. I know my wife well enough to guess that she will voice concern if she happens to forget to duck and finds a swarm of homeless bees burrowing into her hair.
Here is a picture of their burgeoning hive. It is not long for this world.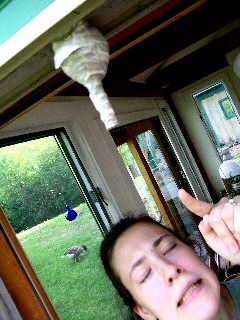 To my knowledge I have never been stung by a bee, unless it was when I was a baby (Mother?). I have had a few narrow scrapes, though. In second grade during class I was startled to discover a hapless bee caught between my watch band and my wrist. I tried to get the attention of my teacher Miss Godshall (yes, her real name), but my fearful whimpers went unheard. I carefully worked it free and it flew away. Maybe I missed my calling as a "bee whisperer" - soothing troubled bugs that no other can tame.

Then there was the time I was working for Sandford Surveying. Earl and I were in the woods one day and he was lurking in the underbrush elsewhere as I was clearing some branches. I swung my brush axe to lop off an obstructing limb from a dead tree, and a posse of angry bees began to pursue me. I fled. I felt something in my hair and thoughtlessly swung at it with my brush axe. A brush axe has a blade that is protected on one side by a stout bracket, and this bracket is what smacked me on top of the head. This is fortunate, because the other side would have scalped me. I had a sore head, but had not been stung. Even better, Earl didn't see this happen.

Note: observant readers will have noticed that I have not posted in some time. This is due mostly to Claire and her blogging prowess. What more can I say said than to you she hath said?